Arts and Culture Texas Magazine
AtticRep Brings Sam Shepard's True West  to the Tobin Center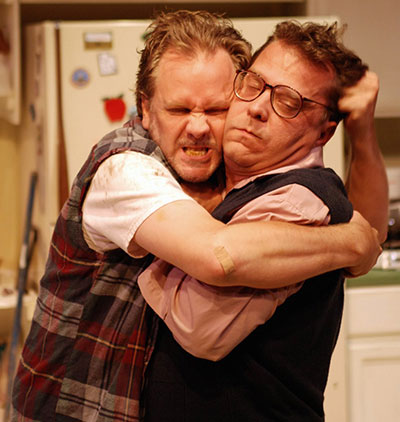 Andrew Thornton and Rick Frederick in AtticRep's 2008 production of True West. Photo by Siggi Ragnar.
AtticRep moves into their third play in their new Tobin Center home with Sam Shepard's True West, Jan. 28 – Feb. 8, with long time AtticRep actor David Connelly at the director helm. Premiered in 1980, True West chronicles the meeting and mayhem of  two brothers: Hollywood screenwriter Austin and  ne'er-do-well Lee. It's equal parts funny and brutal.
Connelly brings a wealth of experience to the AtticRep table having worked professionally as an actor, director, producer, playwright, and composer. He has performed on Broadway, at the Festival of Perth, Australia, with the Steppenwolf Theatre Company, the Goodman Theatre, the Indiana Repertory Theatre, the Utah Shakespearean Festival and San Antonio Public Theatre. Currently, he teaches at North East School of the Arts in San Antonio. Connelly caught up with A + C editor in chief Nancy Wozny to get to the heart of True West.
True West is one of Sam Shepard's finest works, but for AtticRep it completes the trilogy (that includes God Of Carnage and Who's Afraid of Virginia Woolf) of plays where things get way out of hand. Yet in each, all hell breaks loose in its own way, carefully masterminded by the playwright. Where does Shepard fit in this trilogy that includes Edward Albee and Yasmina Reza?
True West is the most primal of the three plays. God of Carnage showcased the stripping away of social etiquette among well-educated suburbanites. Psychological warfare was played out in Virginia Woolf. True West is driven by a constant threat of physical violence and combat that transforms the cozy, suburban kitchen of its setting into a wasteland by the final blackout.
I am always interested in directors and actors revisiting a play. You just revisited Albee's Woolf as an actor, and now get another chance to direct True West, but this time it's in the big Tobin house. What has evolved in your thinking about this play over the years?
This is actually the third time I've worked on True West. I played Lee in a production in the late '90s, and directed AtticRep's previous version. The Carlos Alvarez Studio Theater at the Tobin is a bigger space than these earlier two productions. The ceiling is much higher, and we'll have at least twice the audience capacity than before. This will affect the energy of performance and the scale of the visual design. We also have more creative options with lighting and sound, with the state of the art facilities.
Besides the casting, what do you see as the big directorial challenges of the play?
I'd say that casting is 75% of the job. We have a great cast, so that makes my job pretty easy. It's my job to see that the story is clear, that there's a constant sense of tension throughout, and that the actors survive it! The play requires a lot of physicality in performance, and the stage gets pretty wrecked. We don't want anyone getting hurt.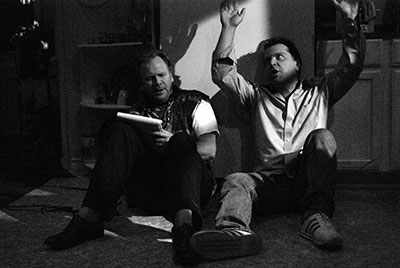 Andrew Thornton and Rick Frederick in AtticRep's 2008 production of True West. Photo by Siggi Ragnar.
The last time I saw True West was at the Williamstown Theatre Festival in a very elaborate and surreal production. How would you describe your treatment?
Shepard wanted to be a rock star when he was starting out. A lot of his early plays have a rock 'n roll sensibility. If True West were a band, it would be The Who. So, let's say we're looking for a "Who" aesthetic.
I can boast hearing damage from seeing the Who, so I will be on the lookout for your rock concert aesthetic. I also married a Californian, so I am familiar with the great promise of the west that provides the undercurrent of the play.  We have some of that going on in Texas. What do you anticipate your audiences will relate to in the play?
Here in San Antonio, we certainly don't need to remind our audience about the myth of the west, that's for sure. It's around us, constantly. I think our audience will relate to the tug of war between civilization and wildness, between progress and the desire to hold on to the past. Lee, the older brother, says, "This country's real different . . . Built up? Wiped out is more like it." Hopefully, the audience will find the play hugely entertaining. It's really funny, scary and outrageous, sometimes all at once.
You have the benefit of an enormously flexible space in the Carlos Alvarez Studio Theater. Just how close will the audience be to the volatile brothers Austin and Lee?
The front row will be just a few feet from the action. In fact, our set design has to account for protecting the audience from flying debris!
I'll be sure to bring a helmet should I find myself in the front row. It's been exciting to watch how the Tobin Center has changed  things for this organization. How do you see AtticRep as key to putting San Antonio more on the Texas theater map?
AtticRep has a great opportunity to showcase San Antonio's local theater talent, as the resident theater company at the Tobin Performing Arts Center. Being in residency at such a spectacular new venue brings new attention to our work, and audience members are coming who didn't know about AtticRep before.
About the Author
Nancy Wozny
Nancy Wozny (editor in chief) has led Arts + Culture Houston for the past two years, seeing this new publication through its beginnings in Houston to where it is now as a new and vibrant Texas-wide arts news source.